Detox juice Progam
 DAILY DETOX PROGRAM
What is it?  You may have already heard about nutritional cleansing, a juice detox program or have known a friend who was on a "raw diet."  It's certainly not a new or new age.  You refrain from all solid foods, sugar, caffeine, and alcohol for your body to detox.
How Does it Work? A Detox is a process of eliminating wastes and toxins from the cells, organs, and the bloodstream.  This is done through a change in diet to cleansing foods, eliminating processed foods, and giving your digestive system a much-needed break.  Therefore, the energy normally used for digestion is now used to flush toxins, eliminate waste and accelerate cell growth.
Why do I need a Detox Program? We know how important it is to change the oil in our vehicles on a regular basis.  A nutritional cleanse is similar to a human oil change.  Our Detox Programs are designed to remove built-up metabolic waste, and radically increasing the number of nutrients that infuse and flush the cells.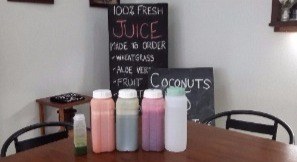 COME into SCHEDULE
What are the benefits?  When you detoxify with juice, you become cleaner, your mind becomes sharper, you feel younger, your emotions become more stable.  During your Detox, your sleep is more peaceful, and you feel energized and restored.  Your taste buds clear, your cravings for unhealthy substances diminish, and you find a preference for healthy foods.  As a result, you feel more healthy.
Will I be hungry?  Most of us have a strong emotional attachment to food.  That being said, what we are feeling during most days is only cravings, not hunger.  So the juice supplied with the program will give the body enough calories, vitamins and minerals that it needs, hence you should not feel hungry.
Included in the Detox Program? Every day during your nutritional cleansing program a fresh supply of juice is made that morning.  Daily this includes a morning Wheatgrass shot, 1-liter breakfast, 1-liter lunch and 1-liter dinner of specially formulated nutritional cleansing juices along with 1-liter coconut water to help with cravings.
(detox) Juice Programs: All programs can be scheduled for pick up daily. Most noteworthy, the cost of not buying food each day will offset the price of the program.  The daily Detox Program Cost is ฿ 1,000 per day.